Sports Broadcasting
The 2017 China Cup International Football Championship Ceremony was held in a standard 400 meter football stadium, which had greater requirements regarding its audio system. The signal transmission had to be stable while the microphones were required to maintain high fidelity due to the open space in the stadium. Therefore, we used 8 sets of HR-31S wireless audio systems cooperated with 2 R-14D diversity antenna dividers and 1 R-22AU directional antenna.
The foreign singers were using H-31 wireless handheld microphones in the opening ceremony and their beautiful voices brought enjoyment to the audience.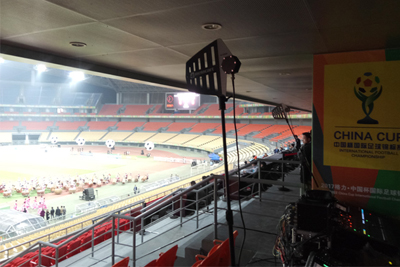 Relacart R-22AU Directional Antenna
We had to set two R-22AU directional antennas in the stadium since our audio system was placed in the audience seats far from the microphones, so that the directional antennas were able to cover the blind spots in the audience to ensure stable signal transmission.